Once you've chosen the style of your charter from the list below, call us at the shop! It's easy to book.
Before you book, please review our Cancellation Policy.
Call (252) 453-3339 to book now.
Or click here to go back to Charter Boats & Captains
---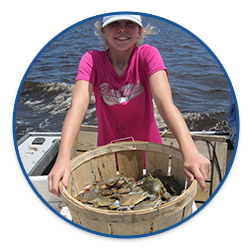 Shrimp & Crab Charters
Set crab pots, pull shrimp nets and take home as much as you can catch! This trip stays soundside.
Rates: $475+
---
4-Hour Inshore Charter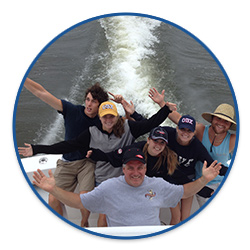 This trip is perfect for beginning anglers and families. Your captain will guide you through soundside hotspots in search of:
Sea Mullet
Flounder
Striper
Trout
Drum
Bluefish
Spanish Mackeral
Times: 6 to 10 a.m. | 3 to 7 p.m.
Rates: $500+
---
4-Hour Nearshore Charter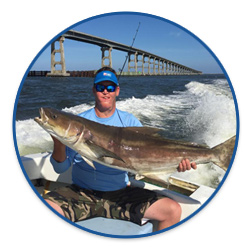 Our near shore charters take you 3 to 5 miles off the coast via Oregon Inlet. Fish the ocean's shallower waters for:
Amberjack
Cobia
Flounder
Spanish Mackeral
King Mackeral
Bluefish
Times: 6 to 10 a.m. | 10:30 to 2:30 p.m. | 3 to 7 p.m.
Rates: $575+
---
6-Hour Nearshore Charter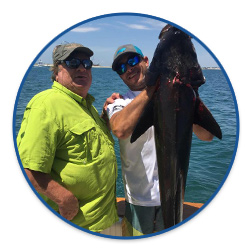 Go a little farther! This charter brings you 15 to 20 miles off the coast to the towers where you're likely to find a variety of reef species, including (but not limited to):
Amberjack
Triggerfish
Sea Bass
Times: 6 a.m. to 12 p.m. | 12:30 to 6:30 p.m.
Rates: $800+
---
8-Hour Tower & Shore Wreck Charter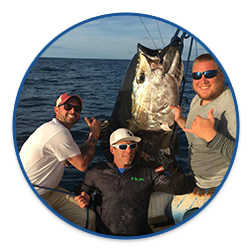 Get the best of both worlds. First, journey 15 to 20 miles offshore to reef fish by the towers, then make your way back to the coast to troll shipwrecks for Spanish Mackeral.
Time: 6 a.m. to 2 p.m.
Rates: $1200+
 
---
8-Hour Deep Drop Charter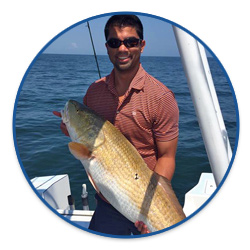 Your captain will lead you 20 to 32 miles off the coast to fish the deep blue. You might catch:
Amberjack
Tilefish
Triggerfish
Sea Bass
Grouper
Time: 7 a.m. to 3 p.m.
Rates: $1600+
---
12-Hour Offshore Charter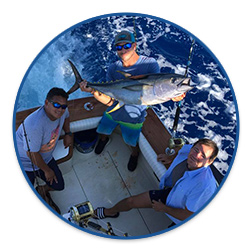 This all-day excursion has brought Outer Banks fishing much noteriety. Little is more exhilarating than being on the hunt so far from land. Head 35+ miles offshore to the Gulf Stream to catch some of the most legendary species out there:
Blue Marlin
White Marlin 

Mahi Mahi

Mako

WahooSailfish

Big Eye

Blackfin Tuna

Yellowfin Tuna
Time: 4:30 a.m. to 5 p.m.
Rates: $1600+
---
Call (252) 453-3339 to book now!